I think that the sweetest voice in the world is Andrew's when he sings. I LOVE it! (Well actually, Elijah is starting to "sing" now too -- I'll have to record it sometime -- and that's terribly sweet too, so I guess I'll have to modify that to "one of the two sweetest voices ever".) Andrew is getting so good at memorizing lyrics now, although he still adds his own stuff sometimes (you'll catch it in this clip). He's one of the funniest guys I know.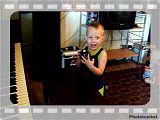 Last weekend my dad, Caleb and Jom drove down here (my dad on a rented motorcycle, the boys in Jom's car) and we had such a wonderful weekend. They were the most polite houseguests, and we had a lot of fun times, even in few short days they were able to stay here.
As they were driving down on Saturday, I cooked and baked all through the day so that they could eat their favorite homecooked things when they arrived. In my family, a big way love is expressed is through thoughfully prepared food, so I put together all the favorites: Grandma Annette's Cheesecake for my dad (those of you who have The Roselle Cookbook have this one -- it feels light because everything in it is whipped, but it hits you like a truck if you eat too much!), Vodka Sauce for Jom (my own recipe, based around my Grandpa Sam's marinara sauce and Aunt Mary Ann's alfredo), and my mom's Honey Whole Wheat Bread for Caleb. I also threw together some granola [pecan/coconut for most of us, and plain for those of us who hate pecans (Greg)]
I've got lots of pictures to share, but they're not uploaded to my photo server yet, so look for them in the days to come. There's also a super funny Throwing Andrew video, so check back soon!