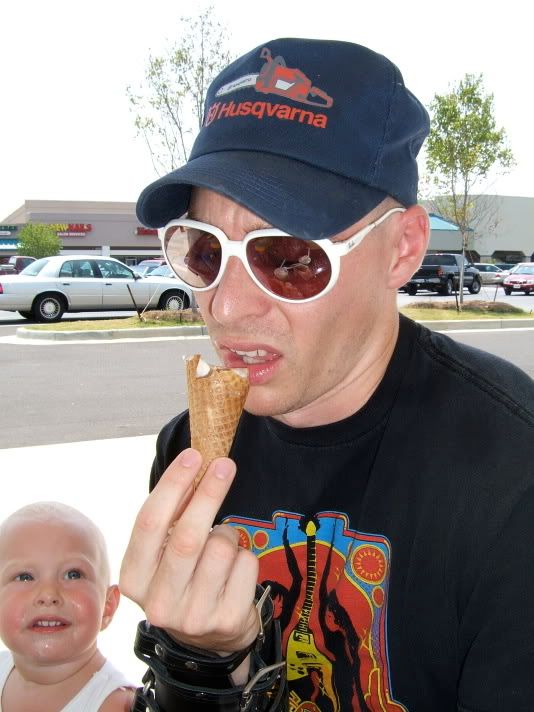 Recently a Ben & Jerry's opened up near where we live, and although we prefer The Marble Slab Creamery, B & J's mailed out "buy one cone, get one free" coupons, so we decided to go. Also, upon retrospect, even considering the money we saved, we would have gotten twice as much ice cream for the same price, had we just gotten Ben & Jerry's pints at the grocery store. Also, it was unfortunate that the coupons were only for cones, because I personally can't stand the thought of eating ice cream from a cone.
First of all, as everybody knows, ice cream cones are made out of either cardboard or styrofoam, and really, who would want to eat anything like that? Secondly, cones are probably one of the most impractical ways to eat a perpetually melting, sticky food that I can think of. Why would I want to "relax" with an ice cream cone, when I have to sit there doing wrist gymnastics and tongue backflips just to keep my beloved scoop from toppling or dripping all over the place? I can say, with great certainty, that I have never been in a state even
close
to relaxation when eating ice cream from a cone. I recall it being more along the lines of heart-racing-eyeballs-darting-messiness. And forget trying to have a reasonable conversation with anyone, or, God forbid, ordering more than one of these horrible things and trying to make it back to the picnic table alive. And the combination of ice cream cones with children should, as a general rule, never be attempted.
Also, in general, ice cream stands don't increase the size of the cone to correspond with the increasing scoop sizes, unless you pay extra. What?! I have to suffer through a teetering three scoop tower, precariously plopped on top of the same cone that houses a size small? And if I want to have corresponding cone and ice cream sizes, I have to pay more just for the bigger cone?
This is almost too much for me to handle. I think I'll just stick to milk shakes.