It all started with these Advent calendars.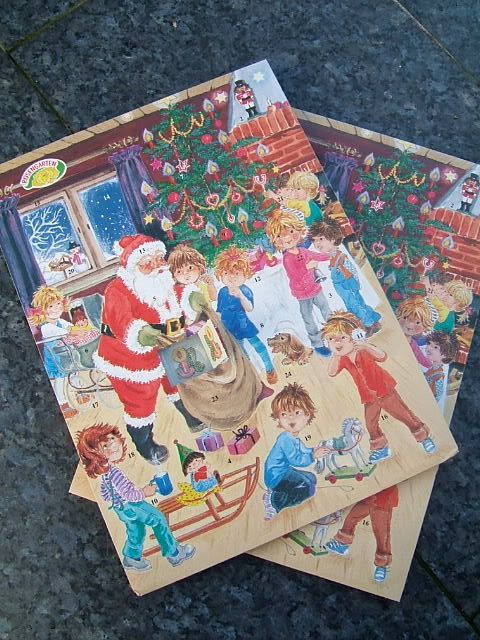 There is an older lady that we often bump into during our morning excursions. She shops at the same places we do, often at the same time. Right away, she decided to "adopt" the boys, and every time she sees us she tells them things in broken English/German, and buys the boys treats (bananas, chocolates, cookies, whatever).
Today we saw her at the market, then as we were walking back home she caught up to us and asked if we were going into this one whole foods store we usually stop at. I indicated that we weren't; we'd stopped to watch a truck unload some furniture (the wonders of being a toddler's mom -- I get to stop and stare at anything). A few minutes later the lady came back with two advent calendars for the boys. I was so touched. Today is the first of December, and I'd forgotten all about the Advent remembrance. When I was little, several times I remember opening up window after window of a calendar, counting down the days until Christmas, thinking about the Christmas story, and I remember it really meaning something to me.
I have a Greek Orthodox friend in Georgia who has three little children, and as I got to know her, I became so jealous of their beautiful traditions surrounding their religious holidays. There was always something interesting and meaningful going on (including special desserts, crafts, etc.) that the children could actually get a hold of. They were always involved somehow, and that got me thinking about what I could do with Andrew and Elijah.
When we celebrated Thanksgiving with Hannah and her roommate a few weeks ago, something struck me. I had wanted to make it a very special thing -- Hailey had never experienced a Thanksgiving (being Australian, she'd never had the opportunity), and Andrew was finally old enough to understand it a little. Also, this would be our first real Thanksgiving on our own. Instead, it ended up being a dinner, dressed up food, dressed up us. But somehow the real meaning seemed to be lost. I thought of it all too late, but I began remembering the next day all of the little traditions that I've read over the years of how other families celebrate.
In my family growing up, there always seemed to be a general understanding of what the holidays were about (the major ones that we happen to celebrate: Easter, Thanksgiving, Christmas), which was probably due to the fact that my parents have taken the time to carefully teach us over and over the stories attached to the events, and how it's more than just Getting Together For A Huge Meal. However, we've kind of just fallen into traditions, like, the night before Christmas we usually read the Christmas story. On Easter, my Dad usually prays something about how we're thankful for the sacrifice that Jesus made for us as he blesses the food before we eat. On Thanksgiving, we....well I can't really remember what we do, but we do something. Everything that we do is very organic, grown out of the entire family's view and feelings towards that particular holiday, and everything that we do leaves me with that warm, special feeling I've come to expect around those times. As it turns out, when you take several of us out of the family gathering and set us off by ourselves, those organic things don't happen. Obvious, I suppose, but kind of an interesting discovery.
Greg's family has rather universal (by that I mean that I've heard/read that a lot of people do what they do), planned traditions like their Christmas Eve thing, which involves singing Christmas carols (interestingly and kind of endearingly always the same ones, although a formal list is never chosen ahead of time -- probably because the same people pick the same ones each year "on a whim"), having communion together, and reading the Christmas story from the Bible. On Thanksgiving they do something too, although once again, the tradition escapes me (reading selected portions from the Bible? Not sure.), and that particular one is shared among all the uncles, aunts and cousins at the grandparents house. Easter always includes a massive egg hunt, put on by the uncles, aunts and older cousins. These traditions also do not suit us -- not because there's anything wrong with them, but because they don't mean anything to us outside of the setting they were previously experienced in. If we tried to recreate them ourselves, one or more of us would end up feeling silly.
It is very important to me, however, that Andrew begins to understand the meaning of the holidays we celebrate. What is the point, otherwise, of getting a pretty tree, giving him tons of gifts, and eating rich food, if it is experienced devoid of any context? He has absolutely gotten his arms around the fact that people will be sending him lots of stuff in the next few weeks that he'll be able to open at some point. This excites him to no end, and has given him a terrible case of the "gimmies". You'd think that he was a spoiled rotten child by the way he talks about it. But I realized that it's totally my fault. I haven't given him any other way to think about Christmas.
This is the long way of saying that I have decided to begin to institute some of our very own traditions. I've always scoffed at the idea of singing "Happy Birthday Jesus" on Christmas, because it seemed so shallow, but the other day I was explaining to Andrew how Christmas is not about getting gifts (although he will get many), but it's about celebrating Jesus' birthday and the fact that he lived such a wonderful life for us. Andrew immediately announced that we'd be singing Happy Birthday and blowing out candles. If it helps him understand it, and celebrate in the true spirit of Christmas, than Happy Birthday Jesus it is. There won't be a cake, of course, because we all hate cake, but it'll be in something else sweet and very special (to us).
The Advent calendar has presented another tradition idea that I intend to keep, and expand on. Before the boys took their naps, I allowed them to open the first window, making sure they understood that it was a Very Special Thing that we will be doing once a day as a countdown to Christmas day. As it turns out, each day has a tiny chocolate with a symbol on it. Today was a candle. They ate it gladly. After naps, we'll cuddle on the couch and read part of the Christmas story out of Andrew's Bible, and I'm going to print off some "Advent coloring pages" off the internet for them to decorate. We'll do similar things each day (I've found some crafts and stuff -- Google "Advent coloring pages crafts" and you'll find a bunch of such), following naps, so that they will begin to learn the story attached to this holiday, and maybe even start to grasp a little bit of the meaning and the specialness behind it.
I'm not sure yet what we'll do on the actual Christmas day; here in Germany, they actually celebrate officially for three days, from the day before to the day after, and that sounds nice to me. Greg will have off from work, so it'll probably happen naturally anyway, but I plan to have actual "things" going on each day, big or small. I'll let you all know about what we decide to do as the plans develop...I've got a few more ideas floating around in my head, and I want to talk with Greg about it more.
I hope that none of what I have written insinuates that the other traditions we've experienced are silly, innapropriate or devoid of meaning. It's just that, as our own little family is growing, we need to find things that mean something to us when
we
practice it on our
own
. I cannot stress this point enough, because I know that holiday traditions are something that are often very dear to the heart, and special to the memory.
For now, enough with the serious and the long. Let's look at a little bit of cute, shall we?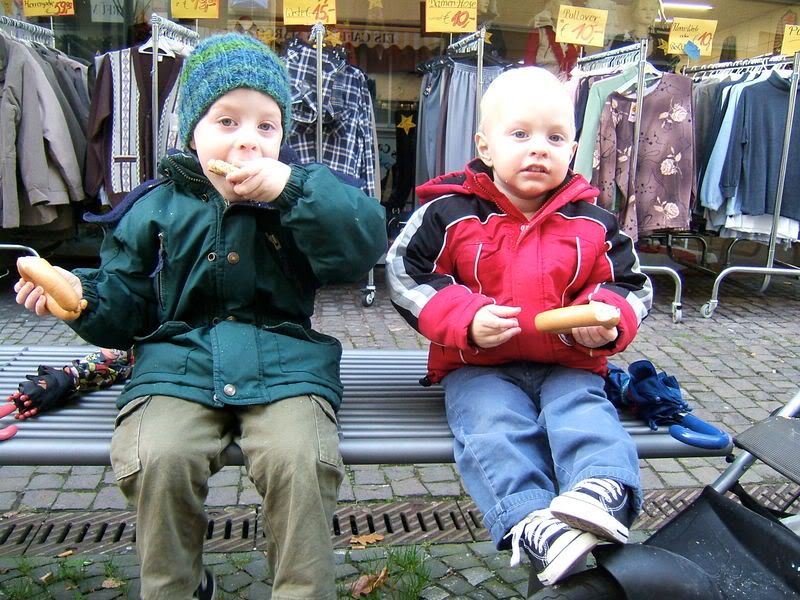 Eating cookies and cold sausages on a bench. Lunch in Germany at it's finest.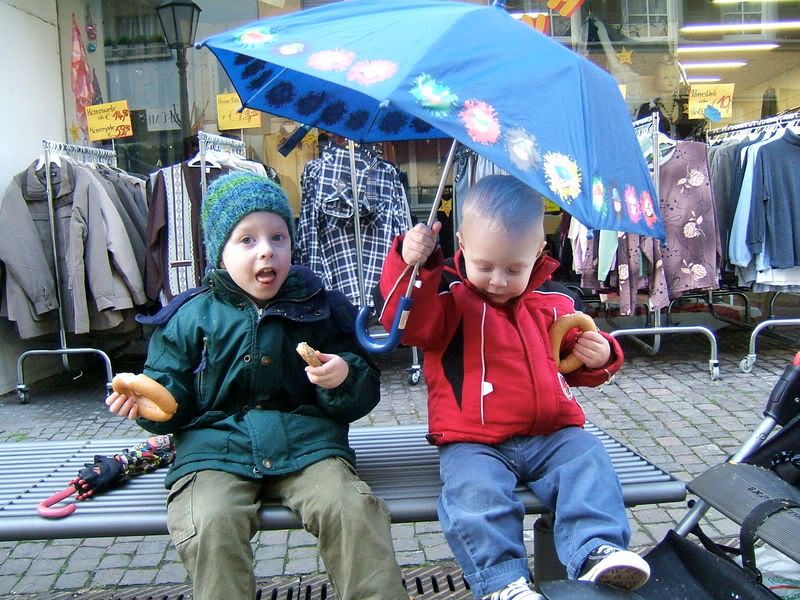 Elijah, ever prepared, has his umbrella up in case of rain (it was cloudy when we left and they were crabby, so everyone got umbrellas, and everyone smiled).
The boys get these brightly colored eggs from the Egg Lady every Friday at the market. Elijah gets confused about things...before I noticed today, he'd already eaten half the egg, with shell. I managed to remove some from his mouth, but he definitely swallowed some.