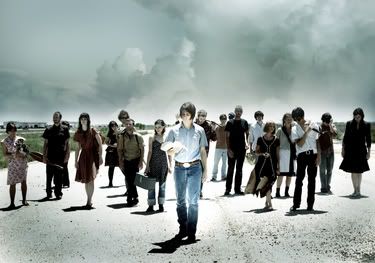 In lieu of my normal "listening lists", I'm going to spotlight one particular band that I think is really doing some unique things. I will get back to the listening lists at some point, but right now, because I got so far behind, it'll have to be a several part series.
Anyway, Peter And The Wolf, an Austin-based band (of sorts) is embarking on a very unique tour, which has actually been ongoing since the end of June. Here is their press release:
"This summer, Austin-based artist
Peter And The Wolf
will take to the roads, the off-roads, and even the seas on their North American tour. Transportation for the last leg of this tour will be a sailboat (yes, a sailboat) a fact which has garnered quite a bit of media attention over the past few weeks, given our nation's current energy crisis. Singer Red Hunter has become an unwitting spokesman overnight for touring musicians everywhere and their response to the inflated gas prices, having now talked with MTV News, ABC World News Tonight and Good Morning America on the subject. In the indie blog world, Peter And The Wolf already have a much-hyped 4-track CD released a few months back on Red's own
Whiskey And Apples
label.
For the first leg of the tour, Hunter will be traveling as a 'divine orchestra of junk metal' in every town. This pick-up ensemble will reach up to 20 members in some cities, with Hunter on guitar/vocals while the orchestra provides the rhythm section. Some of these shows will be held at traditional rock venues, while some will be held at non-traditional venues far off the beaten path. When he reaches the East Coast, hunter will join forces with
Castanets
(
Asthmatic Kitty
) and
Jana Hunter
(Gnomonsong) for a sailboat journey along the Intracoastal Waterway from New York to Savannah, with tour stops held in cities along the waterway. The idea first came when Red joked with Jana Hunter (no relation) over a game of pool that they ought to travel by sailboat to make touring the adventure it should be. Captaining the boat will be WFMU host OCDJ, who wears a real eye patch. A documentary about their voyage will be made by a young filmmaker from the groundbreaking movie
Invisible Children
.
Though Peter And The Wolf is a new project, Red found himself with a sudden cult status after his Order Of The Owl performances last year which took place in off-radar venues like graveyards, abandoned buses, under bridges, and even an island the audience could only reach by canoe. The kids quickly discovered there was a big demand for shows that gave quiet music the reverence it deserved, forcing the participants to take risks, jump fences, and even hide from cops in order to attend. 'It was sort of a cross between throwing a rave and having a forbidden religious meeting under a communist government,' says Hunter. Photos from these shows can be seen on their website. Fittingly, Peter And The Wolf's summer tour and documentary will include a series of unusual venues in the Midwest. It's limited to a few secret shows by word-of-mouth, but we can tell you that so far a barn, a burned-down house, and a crashed boxcar have all been scouted."
PS: Also, check out
Castanets
, and pretty much everything else that
Asthmatic Kitty
releases. Good stuff.