Ever since Greg and I have been together, I've struggled on his birthday to come up with something special and memorable. He lacks for almost nothing, and often during the week we try to do special things for each other. This makes it very hard to invent something new and different for Special Days.
For
my
birthday, we usually go out to somewhere nice, or go somewhere cool. (Two years ago for my birthday/Mother's Day we went to a bed and breakfast in the Binghamton area for the weekend while my parents watched Andrew and we went out to dinner, took walks, etc.) For his, he's often gone for whatever reason (well, Army reasons), and if he's home, he doesn't want to spend a lot of money on himself, especially since it's close to Christmas. This leaves me with only inexpensive options. Someone might suggest cooking a nice dinner for him. But the trouble is, I almost always cook nice dinners for him every day.
This year, I finally thought of something a little bit different. He's not a big dessert person. In fact, he's usually not in the mood to eat anything sweet even if it's something that he does actually like. Something that he's always enjoyed though, is cinnamon/sticky buns. So I decided that I'd make that this year.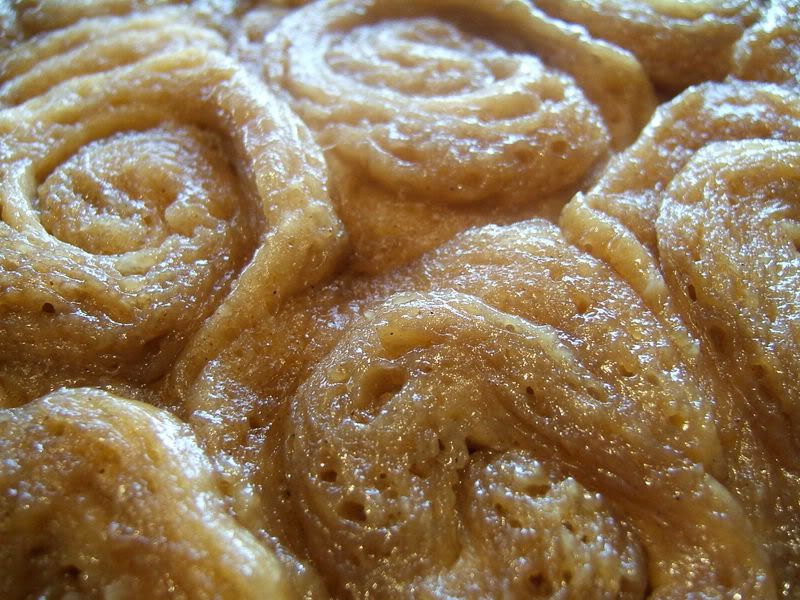 Also on the menu was a pasta dish with tons of wild mushrooms (he loves all mushrooms, especially wild, and I can get them for a good price here because they're "normal"), and a salad of mixed greens with tomatoes, cucumbers, calamata and spicy olives. Normally I don't go to the trouble of making a salad, so I thought that it would add to the "specialness". Unfortunately, Greg's guys are coming home a bunch of days this month, so he's had to do all kinds of prep for it. His birthday was the last day before a long weekend, so...he didn't even get home until 8:30pm. The boys were already in bed. Andrew was a little bit sad, because all day we'd been talking about how we were going to make "happy birthday sticky buns" and sing Happy Birthday to Daddy when he got home. (I promised we'd be able to do it the next morning, so he was OK with that.)
When Greg got home, I was just pulling the buns out of the oven. We ate dinner, and then a few minutes afterwards, he was so tired he just went to bed. The next morning, the movers arrived here with our stuff, and Greg had to direct them. I suggested that he eat a sticky bun for breakfast, but he'd already had a power bar and was fully engaged with the arrival of our stuff. Finally, that night after dinner, we all sang Happy Birthday, and Greg ate one of the buns. "So how is it?"
"It's a little stale."
I wanted to put my head through the wall. He rescued himself a little by saying that the flavor was good, and he wished that he'd had one the night before when they were fresh. He continued to rescue himself more by eating them warmed up in the microwave throughout the next few days.
So that's the story of Greg and the sticky buns. Maybe I'll make them every year for him. Maybe he won't eat them for a week next time (you know, the Army will suddenly call him out into the field for an unexpected "field problem excercise" and he won't come back for days). Who knows?
(It should be noted that I had a bun right before bed the night they were baked, and they were incredible. I put a little bit of cardamom in with the cinnamon and sugar. Mmmm. I'll have to post the recipe. Greg says he would have liked a Cinnabon-style white frosting, but I thought this one was oh so good.)
Click this picture to see how the mess started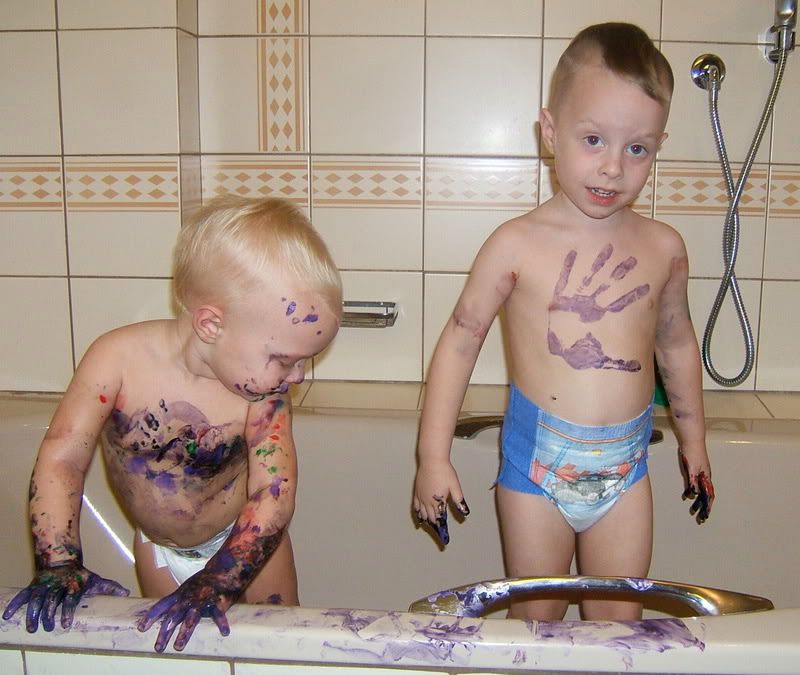 Elijah, straight out of a bath, requested to "pee" like Andrew.
Immediately after placing him on the stool, he got a bad attitude.
(Click on picture to enlarge)