OK, first, the tiniest bit of knitting braggery, and then on to the "good stuff".
Example 1: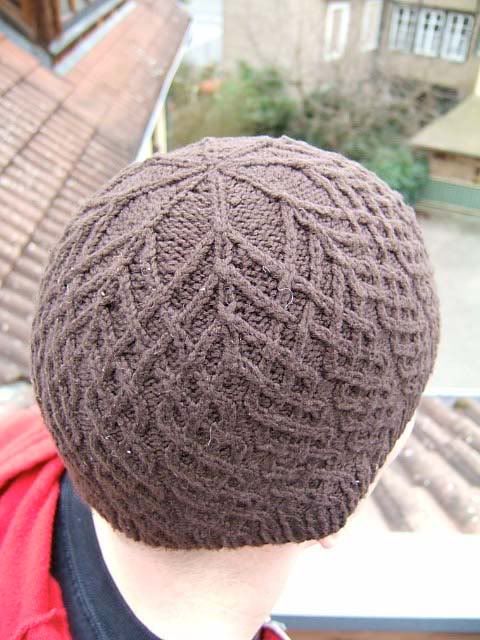 The coolest hat ever, which I knit for Greg about two months ago. It's stretchy cotton and very soft. It's the most difficult thing that I've knit so far, because the cables on it are so intricate, but Greg likes it and wears it often, so it was worth it.
Example 2: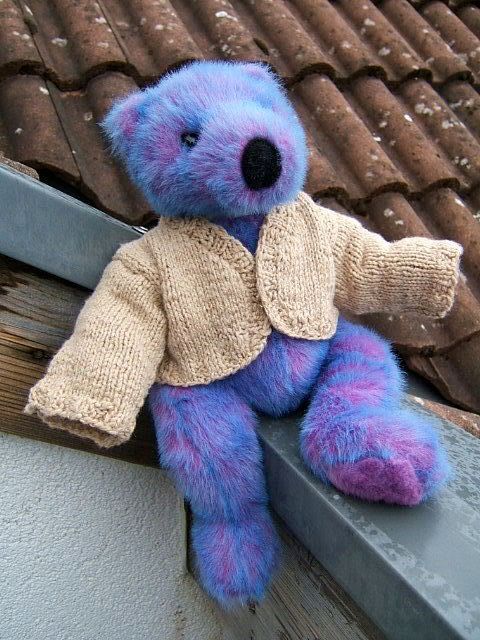 This bolero is actually for the new tiny person, but since they're not able to model it yet, Purple Bear is filling in.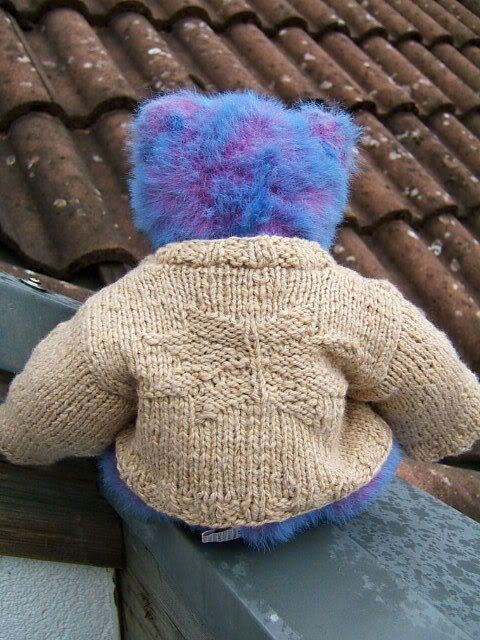 Probably no one cares, but I spun the yarn for this myself. If you do care, you probably already read my fiber arts
blog
. If not, then don't click on that blue word.
Now, on to the stuff that you come here to read about. Hannah is in France this week, so it's the perfect opportunity to blog about her.
No, actually, I've just never got around to posting these pics of a "Wildpark" that we visited a few weeks ago, so here they are.
Inadvertently, several of us are sporting Faith Handknits.
The hat I'm wearing is some more of my own handspun. (See, even though you don't really care, I'm finding a way to slip it in there anyway, amongst the cute pictures.) =)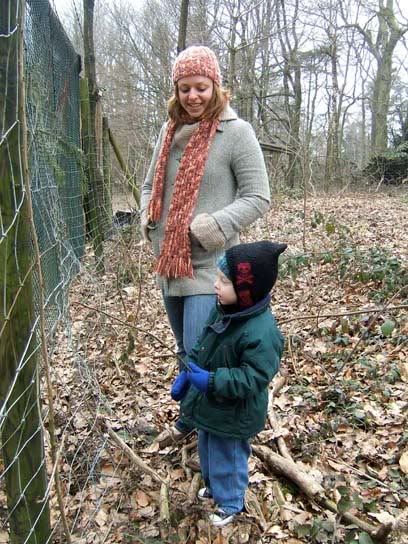 Andrew, wearing his skully sweater
and
blue knit hat, and Hannah, wearing a knit ensemble from the former The Pink Bag boutique. (She's still learning to knit, so we can't blame her for wearing something store bought.)
The wildpark actually wasn't open, but we walked around the fence on the outside and looked at whatever animals would venture close enough to us.
(Greg is wearing the brown cabled hat.) I never get tired of watching Greg interacting with the boys. He was never interested in babies or children before we had them, but now he's incredibly good with ours. I love the way he treats them like little grown-ups. I often eavesdrop on their conversations because the dialogue is so funny. Sometime I'll have to record a conversation for you.
This is just a random shot, but this is where I found Hannah and the boys when I got out of the shower the other day. It's so nice to be able to shower in peace behind a locked door. A true luxury, which I do not take for granted!
The next post will be about midwives and birth choices. I keep promising that post, because I know a few of you are interested, so check back soon. (I'll also include a few gratuitous "cute little guy" pictures, for those not at all interested in what I'll be discussing.)