Yesterday, Lavella had her first real bath. The boys were in the tub, so I decided to just bathe her in a large bowl in the sink.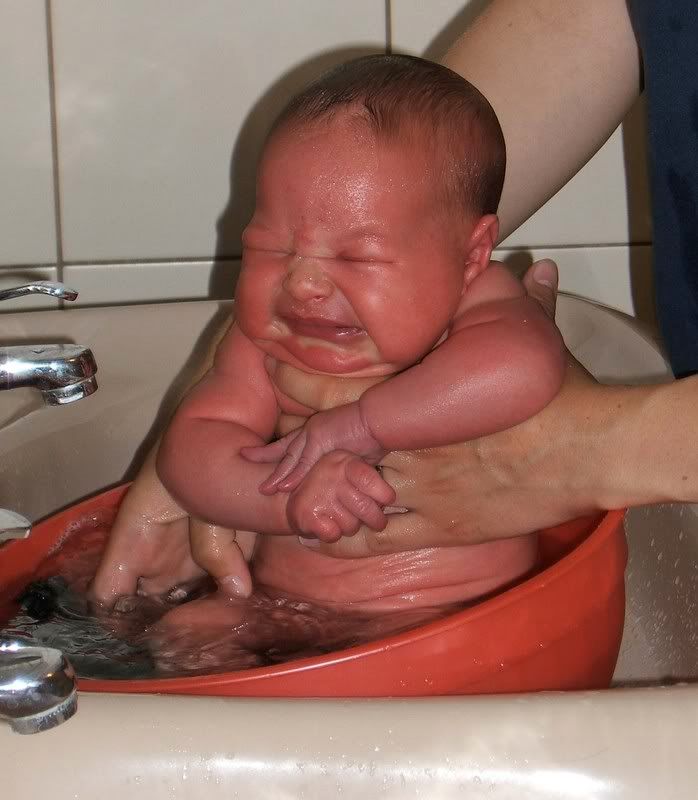 Some of the time she thought this was not so fun. Doesn't she look like a fat little
Buddha
there?
(Photos courtesy of Joel.)
After a month long visit, my mom, Rachel and Joel had to go back home. They left a few hours ago, and I've been a little weepy since. It's very hard to be so alone after all of this time with help and companionship. It doesn't help that Greg won't be home until possibly after I go to bed tonight. Making this even worse is the fact that I have no idea when I'll get to see my mom again, or (possibly more importantly) when my children will be able to visit with her again. Living across the ocean is so hard sometimes, and today it just feels tragic.
Trying not to think about all of that right now though, or the
hormones
will just take over and I'll feel utterly hopeless. I'm trying to focus on happy (or at least peaceful) things. I have some wool that really wants to be spun up into some sock yarn, but my back is hurting too much right now to sit up for that long. Maybe I'll just work on some of my knitting projects.
It's on days like this that I need to guard my credit card, because online shopping feels like just the thing...