Thanks to everyone who joined in on the Name That Baby contest! You can hop on over to my
blog
to see the results, if you wish. (Chase, candy will be arriving in a week or so.)
This week, I've gotten some incredibly generous things in the mail.
For my birthday, Pete and Jill (AKA Poppy and Nana), sent me some maple syrup, maple candy and maple cream (doesn't contain cream, it's just pure maple sap that's been boiled down to be thick and creamy ). The maple products are from the farm down the road from them, run by cousins at
Dewy Meadows
. Normally, being a New Jersey Girl, I don't sing the praises of Pennsylvania. I have to tell you though, Dewy Meadows maple products, tasted alongside those of other farms, are the absolute best I've ever had. If you don't live close, they do mail orders, and it's totally worth the effort!
Also for my birthday, Aunt Mary Ann and Uncle Bob send me a card with "the usual" tucked inside. Always much appreciated! Thank you so much. It always makes me feel so special that Aunt Mary Ann and Aunt Terry remember my birthday each year, even though I'm an "old" kid now.
Yesterday, yet another card (and gift) came from A. Mary Ann and U. Bob -- this one for Lavella. She sends baby kisses your way.
This package came from Sarah D., and I have to say, the words on the pink shirt brought tears to my eyes: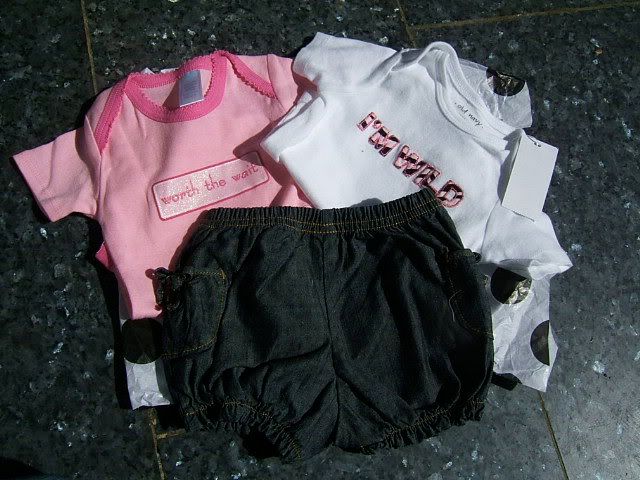 (You can click for bigger, as always)


The shirt reads "worth the wait", and every time I look at Lavella, that's exactly what I think. I was worried about how I would handle being the mom of a little girl, but as it turns out, she's a perfect fit for our family. Born late after a very emotionally challenging (although healthy) pregnancy, she was certainly worth the wait.


Thank you Sarah!

So sorry that there's no baby pics today. I promise to do better in the future. =)

Must go start dinner. I haven't cooked in quite a while, but I think I still know my way around the kitchen...